Anyone can brew!
Sit. Stay. Beer. Package
New dates!!
Peaches Bed & Breakfast is proud to announce its three-night Sit. Stay. Beer. package for the ultimate craft beer aficionados.  If you love craft beer and great food or if you've always wanted to learn to homebrew, this is a must attend event.  Collect your friends and get ready for a fantastic time!  Limited availability, so reserve now.
Thursday night- arrive at Peaches and settle in.  Join the Welcome Happy Hour from 5-7 if you wish.  Then wander downtown for dinner or brews. 
On Friday wake up to the smell of freshly brewed coffee and enjoy a scrumptious breakfast at Peaches and a short orientation before heading out to the party limo for your guided tour of the beer supply super-store, Siciliano's, where we'll purchase the ingredients for the beer we'll brew. 
The tour will continue with four fabulous Grand Rapids breweries.  We'll get a backstage tour at one and there will be plenty of time to enjoy the brews & stories of all.  The limo returns to Peaches and you'll have the evening to check out Grand Rapids' restaurants or more breweries for dinner.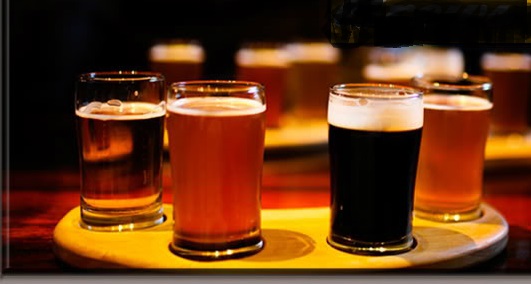 On Saturday, after another yummy breakfast, there will be a hands-on brewing lesson from a local award-winning brewmaster.  Yes, it IS possible to brew excellent beer in your own residential kitchen with a limited set of equipment!  This brew demonstration is suitable for everyone from never-brewed-yet beginners to long-time homebrewers.  There will be two sessions with a break in the middle to get lunch or relax. 
Saturday evening, the festivities will continue with a highly entertaining and educational four-course beer pairing dinner by Chef & beer expert Katie Barnes from Relish Your Food Catering.    Learning has never been so much fun!
Sunday morning, whether you started as strangers or have known one another for years, the group will have lots of stories and memories to share on your final morning at Peaches while enjoying a breakfast that includes spent-grain bread homemade from the brew lesson the day before.
Package Includes:
Three nights lodging at Peaches Bed & Breakfast for 4 or 5 couples (3 minimum)
Three gourmet breakfasts
Welcome Happy Hour
Guided limo-bus tour of the beer supply super store, four breweries and a backstage tour at one of them
Hands-on beer brewing lesson with a local award-winning brewmaster
Four-course beer pairing dinner
Doggie bag filled with treats, information & recipes to take home
2019 Package dates:
September 19-21
October 31-November 2 booked!
November 7-9
Package Price:  $3600
Sample Itinerary (breweries subject to change):
Thursday
4-11pm        Check in & get settled
                      Your brew adventure begins!
5-7pm          Optional Welcome Happy Hour
                      On your own for dinner
Friday
9am             Breakfast & orientation
10am           Board limo-coach for Siciliano's
                      We'll purchase the ingredients for
                      the beer we'll be brewing on
                      Saturday.  There will be ample
                      time to purchase other beers to
                      drink or share later.
11:30-5pm   Local brewery tour
                      Backstage tour at Mitten Brewing
                      Experience everything from small
                      start-ups to large distributor
                      breweries & learn the story of how
                      Grand Rapids became Beer City
                      USA
                            -Mitten Brewing
                            -Perring Brewing Company
                            -Founder's
                            -Brewery Vivant
5pm              Return to Peaches Bed & Breakfast
5-midnight   Leisure time; on your own for dinner
                       Haven't had enough breweries? 
                       Your Innkeepers can point you to
                       some local favorites within
                       walking distance.
 Saturday
9am              Breakfast
10am-12N        Brewing lesson session 1:
                         beginning stages of brewing–
                         set-up, mashing, sparging
12N-2pm      Continue brew process, or
                        -More beer drinking or
                        -Head out to lunch at one of our
                         great local restaurants or
                        -Self-guided walking tour of
                         Heritage Hill Historic District
2-3pm            Brewing lesson session 2:
                         Be back in time to see the final
                         stages of brewing.
3-6pm            Leisure time
6pm sharp     Beer Pairing Dinner
                         Join the rest of the group for
                         this unforgettable dinner
                         presented by chef and beer
                         expert Katie Barnes
Sunday
9am              Breakfast
10am            Check out
Check out the article in Mittenbrew.com!

Everybody loves Spotted Paw beer!