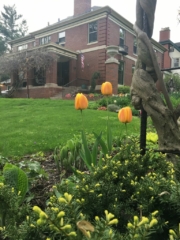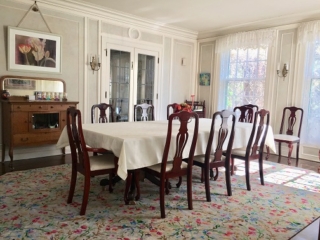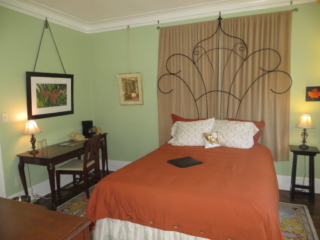 Peaches is an elegant Georgian-manor style home located in Heritage Hill in downtown Grand Rapids, Michigan. Guests will find beautiful, bright, uncluttered rooms, luxurious amenities, spectacular gardens and memorable hospitality. Business travelers and tourists who are weary and frustrated with routine accommodations are our first priority.
Room rate is $159 per night
Check in any time after 4 PM
Checkout time is 10 AM unless prior arrangements are made
The History of Peaches
Peaches Bed & Breakfast, in the historic Heritage Hill area of Grand Rapids Michigan, is a Georgian Country Manor style home and was built in 1916 by Chester Idema, son of Old Kent Bank founder Henry Idema. When Chester and his family lived here, they had 2 live-in maids, a full-time cook, a full-time laundress, and a full-time chauffeur. We're not sure about a butler or gardener, but it seems likely. Chester lived here for 62 years.
Although the house is still in nearly original condition, many of the antiques are family pieces of the current owners and they have enjoyed collecting original artwork. One recent acquisition is "Edgar" the dragon from the first ArtPrize competition & he enjoys pride of place in the front yard.
They cleared the overgrown existing garden and have re-landscaped and replanted it with perennials and added a patio area. The arches and arbor were fabricated by a friend of theirs.
The home is now a bed & breakfast. Peaches takes its name from the sign in the foyer, which was Jane's grandfather's: he had peach orchards in South Haven during the early part of the 20th century. As you enter, note the Flemish mosaic tile floor & leaded glass sidelights. The skylights in the hall are original & the lower set opens for ventilation and now allows for central air.