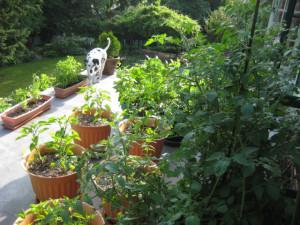 Peaches has earned an amazing 88 points from the Michigan Department of Labor & Economic Growth's Green Lodging initiative. We scored higher initially than any other property when we were first certified in 2007.
Some of our green initiatives include:
Drying sheets outside.
Recycling EVERYTHING
Using as few disposable products as possible.  We use china, cloth napkins, washable rags, & glass room amenities.
Using or converting to Energy Star appliances wherever possible.
Growing a kitchen garden on the roof, for both sustainable food and heat control.
Utilizing a rain barrel.
Providing an electric vehicle charging station free to guests.
Buying local.